research via CDC.gov, any opinions in this post belongs solely to CJ Jones.
An estimated 1.2 million people in the United States are living with HIV, including 156,300 people who do not know they are infected. Each year, nearly 45,000 people are diagnosed with HIV, and 30% of new HIV infections are transmitted by people who are living with undiagnosed HIV. For those who are living with undiagnosed HIV, testing is the first step in maintaining a healthy life and reducing the spread of HIV.
CDC recommends that everyone between the ages of 13 and 64 get tested for HIV at least once as part of routine health care. A general rule for those with risk factors is to get tested annually. Additionally, sexually active gay and bisexual men may benefit from getting an HIV test more often, perhaps every 3 to 6 months.
Data from a clinical trial sponsored by the National Institutes of Health indicate there is a clear personal health advantage to being diagnosed and starting therapy in the early course of HIV infection. This information further highlights the importance of routine HIV testing and its potential impact on better health outcomes. See Starting Antiretroviral Treatment Early Improves Outcomes for HIV-Infected Individuals .
Testing at Home: 
Currently, there are only two home HIV tests: the Home Access HIV-1 Test System and the OraQuick In-home HIV test. If you buy your home test online make sure the HIV test is FDA-approved.
The Home Access HIV-1 Test System is a home collection kit, which involves pricking your finger to collect a blood sample, sending the sample to a licensed laboratory, and then calling in for results as early as the next business day. This test is anonymous. If the test is positive, a follow-up test is performed right away, and the results include the follow-up test. The manufacturer provides confidential counseling and referral to treatment. The tests conducted on the blood sample collected at home find infection later after infection than most lab-based tests using blood from a vein, but earlier than tests conducted with oral fluid.
I suggest the Home Access HIV-1 ( image below)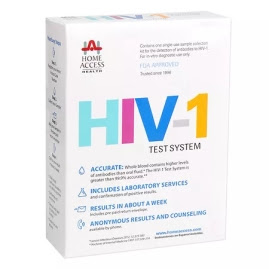 Cost: $40-60 (available at Walgreens, CVS, Walmart.com)
The OraQuick In-Home HIV Test provides rapid results in the home. The testing procedure involves swabbing your mouth for an oral fluid sample and using a kit to test it. Results are available in 20 minutes. If you test positive, you will need a follow-up test. The manufacturer provides confidential counseling and referral to follow-up testing sites. Because the level of antibody in oral fluid is lower than it is in blood, oral fluid tests find infection later after exposure than do blood tests. Up to 1 in 12 infected people may test false-negative with this test.
I suggest OraQuick In-Home HIV Single Use Test ( image below)
Cost: $40-60 (available at Walgreens, CVS, Walmart.com)
Or, you can simply find a location nearest you for a private, professional testing by clicking here:
https://www.aids.gov/hiv-aids-basics/prevention/hiv-testing/hiv-test-locations/